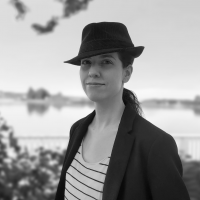 Vanessa Krauss
Contemporary Romance, Women's Fiction, LGBT, Science Fiction, Fantasy, Horror, Teen & Young Adult
Profession

QA, Artist, Author
Vanessa is a Vancouver, Canada native and resident. Her education has revolved around computer generated media and design. Through the Art Institute's Game Art and Design program, Vanessa developed specialties in Character Modeling and Character Concepting, along with a side specialty in Game Development. She has worked on videos games as a QA and designer for several years at EA Sports (NBA, NCAA, FIFA) and has continued on as a professional Quality Analyst for a Fortune 100. She does gig work as a commissionable artist, primarily designing characters. She loves creating characters and worlds, both through art and through literature that carry the elements of the fantastical and the strange.

Her debut novel, 'One Aon Fatality,' follows Horizons' first Aon creation, Fatality; tasked to destroy the forces of nature but defiant of her owner's ambitions for world homogeneity.
The sole meaning of life is to serve humanity.
Leo Tolstoy